1×4 Flexible Distribution Amplifier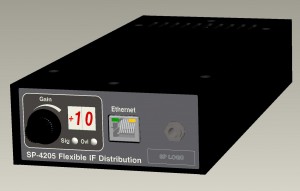 The SP-4205 is a 1×4 IF Distribution Amplifier that measures 1.72″ × 9″ × 4.18″ and isolates and linearly amplifies 70 MHz, 140 MHz, 160 MHz, and 1 GHz IF signals. The amplifier contains a single channel capable of a single input and four 50-ohm loads. The channel can be populated with a 50-210 MHz module, ideal for 70-160 MHz IFs, or a 25-1500 MHz module, ideal for 1 GHz IFs.
For more information, email info@silverpalmtech.com.