20-6000 MHz 2×4 RF Switch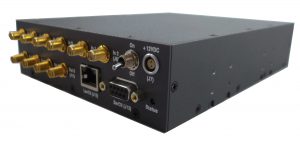 The SP-4342 2×4 RF switch is a nonblocking switch that provides functionality from 20 to 6000 MHz and is LAN controlled. The switch provides excellent intermodulation and noise performance and is ideal for use in systems with low-noise amplifiers.
The switch is specifically designed to integrate with the SP-1342 four-channel 10-gigabit Ethernet (10GE) receiver. The combination of the SP-4342 and SP-1342 provide a high-performance, low-cost antenna to digital IF over 10GE solution.
For more information, email info@silverpalmtech.com.