20-4000 MHz High Dynamic Range Amplifier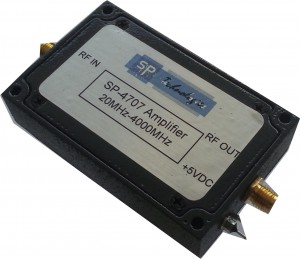 The SP-4707 is a high dynamic range amplifier offering excellent intermodulation performance. It is ideal for use as a low-noise preamplifier in harsh signal environments. The amplifier covers 20 to 4000 MHz with a typical gain of +13 db. Key typical specifications include a noise figure of 3 dB, output IP3 of +42 dBm, and an output IP2 of +65 dBm. Power is approximately 350 mA at +5VDC.
For more information, email info@silverpalmtech.com.