300 MHz-4 GHz Four-Channel MIMO Transceiver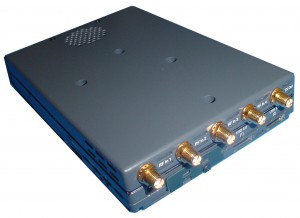 The SP-8309 is compact, fully functional multichannel transceiver for MIMO or phase-coherent requirements. The unit measures approximately 4″ × 6″ × 1″ and contains four receiving channels and one transmitting channel, all of which cover 300 MHz to 4000 MHz. Each channel provides 20 MHz bandwidth I&Q data packetized per VITA-49 standards and available over a USB 3.0 interface. The unit can be purchased with an integrated antenna option.
For more information, email info@silverpalmtech.com.