50 MHz-2 GHz SDR Tx/Rx Switch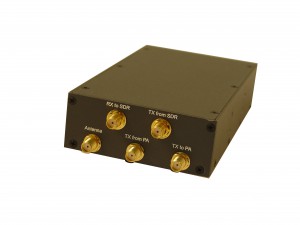 The SP-4303 is a 3″ × 5.6″ × 1.15 receive/transmit switch designed for portable Software Definable Transceivers (SDRs). It supports various SDRs and has a frequency range from 50 MHz to 2 GHz. The unit has an integrated LNA and supports power amplifiers up to 2 watts. Operation is from a 9-16 VDC power supply and Rx/Tx switching is controlled either by an automatic internal power sensor or by various external interfaces.
For more information, email info@silverpalmtech.com.