20 MHz-6 GHz Quad 3U VPX Tuner With Digital IF Output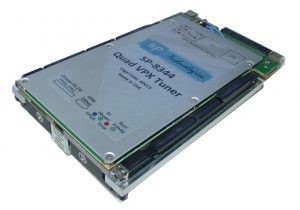 The SP-8344 is a modular conduction-cooled 3U VPX quad tuner. It includes four 20 MHz to 6 GHz tuners and a four-channel IF digitizer and FPGA. A 250 Msps digitizer is connected to each tuner and is capable of digitizing the 40 MHz tuner bandwidth. The digital data from the four tuners is provided in a VITA-49 compatible format over four Aurora lanes on the VPX backplane. The unit also includes an internal GPS-stabilized, 10 MHz reference, and a 1G Ethernet interface for control.
For more information, email info@silverpalmtech.com.