30 MHz-6 GHz Quad Pack V/UHF Tuners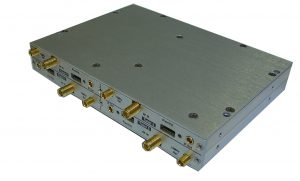 The SP-8384 is a high-performance VHF/UHF tuner quad pack that offers excellent performance over its 20 to 6000 MHz frequency range at a very economical price.
The SP-8384 is very compact with an overall size of only 6″ × 5″ × .93″ for the quad tuner pack. Each tuner in the quad pack is an independently controllable device sharing a single mechanical package. The SP-8384 quad tuner is based on the field-proven SP-8383 tuner.
For more information, email info@silverpalmtech.com.