Silver Palm Technologies offers a series of Software-Definable Radio (SDR) products. These include highly integrated transceivers as well as supporting hardware, such as transmit/receive switches and highly linear low-noise amplifiers (LNAs) products support VITA-49 digital intermediate frequency (IF) standards, including time tagging over various industry standard interfaces. Silver Palm Technologies specializes in custom solutions should the standard product offering not meet the exact requirements.
SP-8304 Four-Channel SDR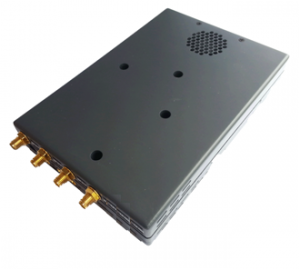 The SP-8304 is a highly integrated four independent channel receiver that is ideal for mobile and fixed sight applications. Its small size allows it to be easily integrated into numerous platforms, including servers and ruggedized computers. Each receiver is fully independent, allowing the SP-8304 to be used as a powerful survey monitoring asset.
300 MHz-1 GHz coverage
20 MHz bandwidth
VITA-49-compliant digital IF
9-16 VDC operation
3″ x 5″ x 1″
IRIG-B and 1PPS support
Ruggedized packaging
PCIe interface
SP-8309 Four-Channel Transceiver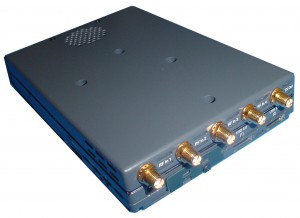 The SP-8309 provides four coherent receivers and one transmitter, making it perfect for direction finding for MIMO applications. The SP-8309 also supports an integrated antenna array, thus allowing for a complete system in the size of a standard computer hard drive.
Four channels receive, one channel transmit
True phase-coherent operation
External and internal antenna array support
300 MHz to 4 GHz coverage
USB 3.0 interface
VITA-49-compliant digital IF
IRIG-B and 1PPS support
SP-8344 Quad 3U VPX Tuner With Digital IF Output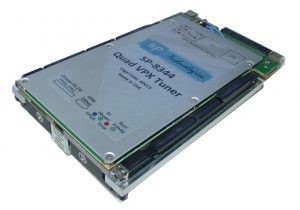 The SP-8344 is a modular conduction-cooled 3U VPX quad tuner. It includes four 20 MHz to 6 GHz tuners and a four-channel IF digitizer and FPGA. A 250 Msps digitizer is connected to each tuner, and the digital data from the four tuners is provided over four Aurora lanes on the VPX backplane. The unit also includes an internal GPS-stabilized, 10 MHz reference, and a 1G Ethernet interface for control.
Four independent tuners
20 MHz to 6 GHz
40 MHz bandwidth
VITA-49 compliant digital IF
Integrated GPS-stabilized reference
SP-4707 Linear Amplifier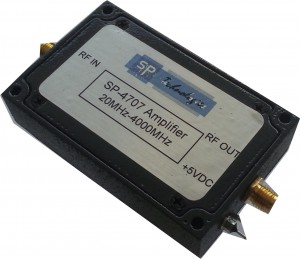 The SP-4707 is a high-performance amplifier specifically designed for ultralinear applications. A proprietary design yields superior second- and third-order intermodulation performance. Additionally, the unique balun configuration provides excellent phase and amplitude tracking  between amplifiers.
20 MHz to 4 GHz
+5V single-supply operation at <350 mA
13.5 dB gain typical
+42 dBm output IP3 typical
+65 dBm output IP2 typical
+3 dB noise figure typical
SP-4303 Intelligent Transmit/Receive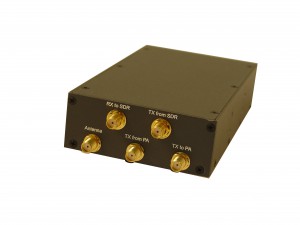 The SP-4303 is an intelligent transmit/receive switch that offers an enormous amount of capability and flexibility to SDR systems. The SP-4303 is designed to seamlessly integrate the antenna and power amplifier to the SDR. The switch can work autonomously or high customized by the user over a choice of standard interfaces.
50 MHz to 2 GHz
RS-232, USB, and Ethernet interfaces
GPIO for system control and monitoring
9-16 VDC operation
< 100 uSec switching time
Ruggedized packaging
10G Ethernet SDRs
Silver Palm Technologies has introduced a line of digital IF over 10G Ethernet products that support the next generation SDR system architecture. The products are fully VITA-49-compliant and can support either internal or external RF front-ends or can be highly customized by the user.
40 MHz bandwidth at 16 bits
Versions with integrated RF available
SFP+ sites for 10G Ethernet
GPS-stabilized reference
Narrowband and wideband DDCs and resamplers
VITA-49 digital IF
IRIG-B and 1PPS support
Integrated front-end control and reference
SP-1342-1 four-channel SDR
SP-1381 four-to-eight channel SDR
For more information, see our Software-Definable Radio Solutions Brochure.